Scott Langevin
UNEARTH ANNOUNCE EUROPEAN HEADLINE TOUR IN FEBRUARY 2020 RELEASE NEW MUSIC VIDEO FOR "SIDEWINDER"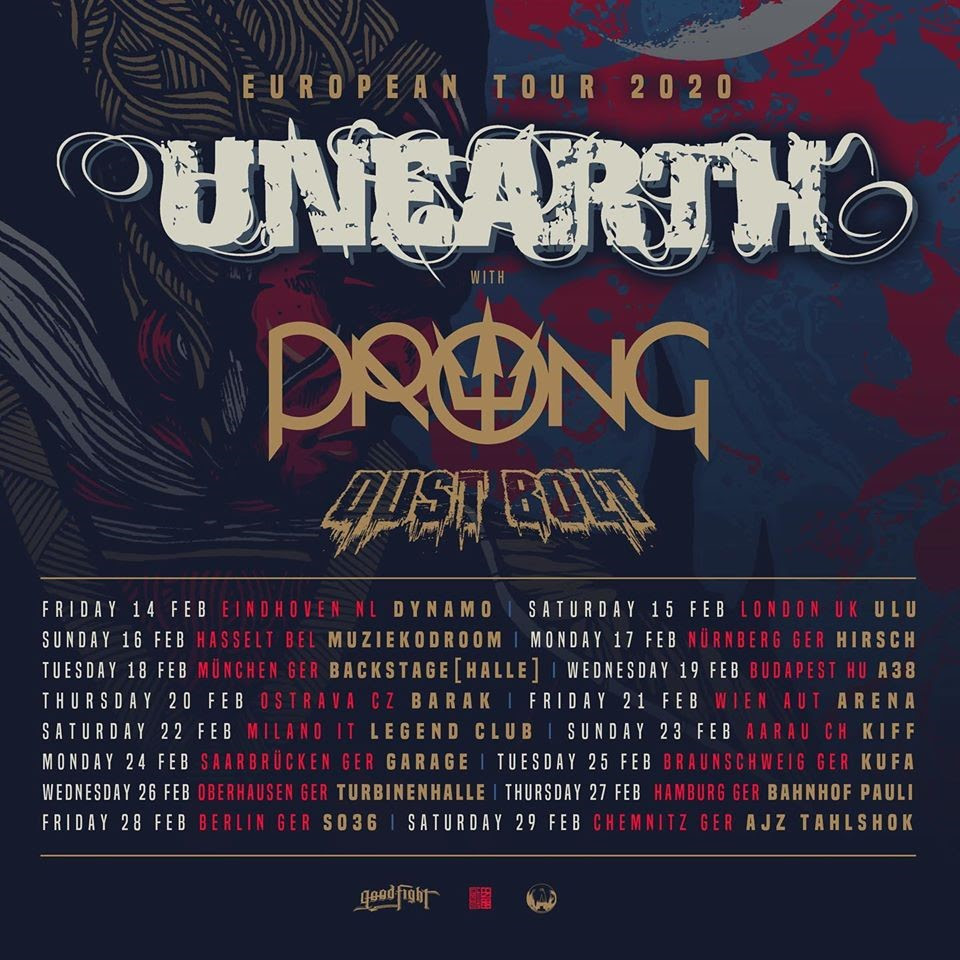 American metalcore band UNEARTH announce their Winter European headline tour today. The tour starts on February 14th in and wraps on February 29th. Prong and Dust Bolt will join UNEARTH as support for the full February run. For more information on upcoming tour dates and to purchase tickets, visit the band's Facebook page HERE.
UNEARTH comments, "As promised, we are heading back to Europe for a headlining tour this February. We are all looking forward to ripping a full set with you all as well as sharing the stage with killer bands. The mighty Prong will join the trek as direct support with German thrashers Dust Bolt rounding out the bill. See you out there friends."
Before the band's European headline tour, UNEARTH will be closing out the year for a handful of U.S. dates in December. Starting December 6th and running from December 15th the band hit the West Coast with Darkest Hour, followed by a few East Coast dates with Gwar starting December 27th to December 31st.
UNEARTH have also just announced the release of their new music video for "Sidewinder", off the band's 2018 full-length album, Exctinction(s). Check out the video HERE.
UNEARTH TOUR DATES
Headline Tour w/ Darkest Hour
12.06.19 Seattle, WA @ El Corazon
12.07.19 Portland, OR @ Dante's
12.09.19 Orangevale, CA @ The Boardwalk
12.10.19 Los Angeles, CA @ Club 1720
12.11.19 San Diego, CA @ Brick By Brick
12.12.19 Scottsdale, AZ @ Pubrock
12.13.19 Las Vegas, NV @ 601 Fremont
12.14.19 Grand Junction, CO @ Mesa Theater
12.15.19 Denver, CO @ The Roxy Theatre*
w/ Gwar and Savage Master
12.27.19 Washington, DC @ 9:30 Club
12.28.19 Brooklyn, NY @ Warsaw
12.29.19 Cleveland, OH @ House Of Blues
12.30.19 Chicago, IL @ Concord Music Hall
12.31.19 Cincinnati, OH @ Bogarts
Headline Tour w/ Prong and Dust Bolt
2.14.20 Eindhoven, Netherlands @ Dynamo
2.15.20 London, UK @ ULU
2.16.20 Hasselt, Belgium @ Muziekodroom
2.17.20 Nürnberg, Germany @ Hirsch
2.18.20 München, Germany @ Backstage
2.19.20 Budapest, Hungary @ A38
2.20.20 Ostrava, Czech Republic @ Barak
2.21.20 Wien, Austria @ Arena
2.22.20 Milano, Italy @ Legend Club
2.23.20 Aarau, Switzerland @ Kiff
2.24.20 Saarbrücken, Germany @ Garage
2.25.20 Braunschweig, Germany @ Kufa
2.26.20 Oberhausen, Germany @ Kulttempel
2.27.20 Hamburg, Germany @ bahnhof pauli
2.28.20 Berlin, Germany @ So36
2.29.20 Chemnitz, Germany @ Ajz Tahlshok
Two decades into a triumphant career, the Massachusetts-bred New Wave of American Heavy Metal trailblazers are both elder statesmen and newly relevant all over again. With over a half million albums sold around the globe, UNEARTH'S astounding legacy has never been more self- evident. Immediately upon its release in 2018, "Incinerate," the first single from their seventh studio album, shot to #1 on SiriusXM Liquid Metal's "The Devil's Dozen" and was among the Top 100 most played songs on Amazon Music. Their seventh studio album Extinction(s) is as much a statement of purpose as a declaration of intent, reigniting the flame of their established strengths and carving a pathway for another two decades of creative accomplishment and inspired live performances.
UNEARTH's celebrated catalog of full-length bangers began with The Stings of Conscience (2001), followed by the genre landmark album The Oncoming Storm (2004), records that established them as luminaries alongside peers and contemporaries in bands like Lamb Of God, Killswitch Engage, and As I Lay Dying. III: In the Eyes of Fire (2006) further established UNEARTH as an influential force. Boundary pushing opus The March (2008) includes "My Will Be Done," which became their most streamed and most viewed song/video on all major platforms.
UNEARTH is Trevor Phipps (vocals), Ken Susi (guitar), Buz McGrath (guitar), Nick Pierce (drums), and Chris O'Toole (bass).
Follow UNEARTH: